History of the London Civic Garden Complex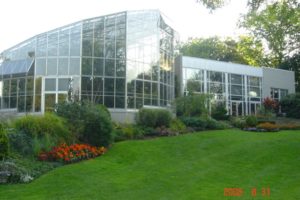 The eastern end of Springbank Park was designated for horticultural use by landscape architect William Dilger.  This designation is the same today as it was in the original Master Plan for the park in 1913.
On this broad triangle near the Wonderland Road and Springbank Drive intersection, the City's first greenhouse was built in 1922.
The current greenhouses opened in 1985.
A large storage building with attached greenhouses was located behind the present greenhouses where currently the compost piles and parking area exist.  This building was demolished in 1986.
The City of London expanded the Greenhouses in 1996, at which time the three rows of below ground cold frames were demolished.
This newest addition, The London Civic Garden Complex, (designed by local architect Richard Hammond of Cornerstone Architects) opened in September 1996. Three partners were involved in the $1.4 million project: the Garden Club of London, The Manness estate and London Parks and Recreation.  The Garden Club provided $250,000 from funds accumulated through flower shows, craft sales and boutiques.  The Manness portion came from a $250,000 bequest to the parks department from Keith Manness.  The conservatory is now called the Manness Conservatory in memory of his father Samuel, a former city alderman.  A large room at the rear of the complex, is home to the Garden Club of London. In 2007, the Garden Club built a storage room to the rear of the lobby.
Horticultural developments have expanded to include extensive gardens (maintained by the City of London) and a Woodland restoration area (maintained by the Garden Club of London).
Beyond this tableland, the land slopes to the river where Wonderland Gardens and the Joe McManus boathouse are located.  The original Wonderland Gardens was constructed in the early 1930's by the Jones family as a bandshell and dance floor.  In the summer of 2005 a fire destroyed the original dance hall and damaged the bandshell.  The City of London  Master Plan calls for a mixture of reconstruction, adaptations and new components such as a new bandshell, open-air pavillion and a smaller food concession building.  These structures will be surrounded by landscaped gardens, informal recreational features such as picnic spots, lookouts and trails through natural woodlands.